A bit later than we initially planned but our fully funded free running project finally started on Wednesday 18th February and will last for 6 weeks. With funding acquired from WCVYS and the generosity of local people we have been able to provide a number of keen junior members the opportunity to take part in and develop new skills within this fast growing sport.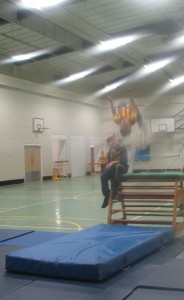 Taking place at Princethorpe College Sports Centre and instructed by professional parkour coach Brendan Riley (EMP Parkour) and local martial artist/stuntman Sam Durrani this project promises to be highly rewarding and fun for all participants.
Young participants really enjoyed the first week and the delivery was excellent, catering for all levels and keeping everyone engaged. Everyone is excited about the next time we go but until then Bradby Club staff have their hands full trying to stop our young people back flipping off the stage.
The highly enjoyable and successful 'Jump Bradby' junior free-running project video is now on our YouTube channel. https://www.youtube.com/channel/UCJkp_NnBDdTyUNfFKaXYurA