On behalf of the young people, staff, volunteers and trustees the Bradby Club sends thanks and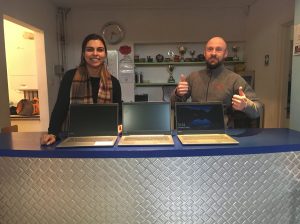 gratitude for the generosity and continued support of  Rugby Round Table 113 towards Bradby and the work we undertake. Rugby Round Table have supported Bradby for many years making numerous donations and this week presented Club Leader John Robertson with a cheque that would enable the purchase of 3 new laptops to be used at the centre. This will make a huge difference in the opportunities we can offer young people and the work we can undertake both on and off-site.
Without Round Table's and other local supporters help we would not be able to offer the positive opportunities and activities that are so vital for young people's development into adulthood.