The Bradby club, as it was in its original form, was formed in 1919 by Reverend Canon Bonhote (a master at Rugby School) and G.F. Bradby (a former housemaster). It is said that the club was set up as a result of a number of boys stealing apples from G. F. Bradby's Garden. It is as a result of this that Bradby Boys Club was born.
For many years the club met on Rugby School premises and its leadership was provided voluntarily by masters and former masters of the school. G.F.Bradby provided the current site of The Bradby Club when he left the field at the bottom of his garden to Rugby Council which was to be used as a recreation ground, expressing the wish that, if it were ever possible, a club building should be erected on it.
The original building (which still stands today) was built in 1957 and the first paid part-time leader was employed in 1958, this subsequently became a full time paid position and has continued to be ever since.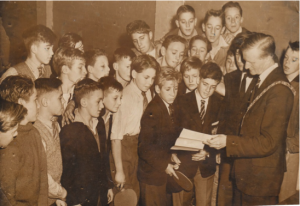 In 1963 the Richard Broxton annexe was added providing a coffee bar, lounge and quiet room to the building and as the result of an appeal in 1970, the Jubilee year, the club was able to add changing rooms, showers, toilets and a weight training room to the building.
Since then we have further improved the facilities of the club creating an arts and craft/chill out room and a workshop. In addition to this we now also have a floodlit ball court and now have our very own minibus which allows us to take young people on residential and other trips.
The club has a long and distinguished record of providing guidance and help to young people, generally in reduced circumstances, in Rugby and District and although girls have been allowed to come to the club for many years it was in 1997 that the name of the club was officially changed to The Bradby Club for Young People, a statement meaning that this once boys club was now accessible to all young people wishing to attend.
The club now has a number of paid and voluntary staff who provides a number of services for the club, from substance misuse and safer relationships work to project work and fundraising. Each member of the team is passionate about seeing young people reach their full potential and helps to continue the legacy left by Bonhote and Bradby.
(For more information on what we do as a club please see: What We Offer)