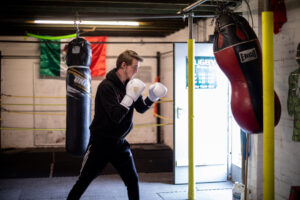 The Bradby Club has a well-established reputation for delivering Boxing training in Rugby. We have had many successful young fighters through the years but all young people who attend enjoy and gain valuable skills from their experiences. Boxing teaches young people about hard work and dedication and how rewards are gained from these. It also contributes to young people having an active, healthy lifestyle and gives them a positive way of escaping. For those young people with anger issues, Boxing again gives them a positive way to channel their anger and deal with their emotions in a more effective and less risky way.
Rugby Boxing Academy Times:
Monday:
All Levels 6:00-7:00 pm
Wednesday:
All Levels 6:00-7:00 pm
Thursday:
All levels 6:00-7:00 pm
Alternatively, the Bradby Club has a number of qualified and experienced instructors so please get in contact if you require training outside of these times.
If you require any information regarding Boxing then please contact Head Coach Byron or Centre Manager John at The Bradby Club; Tel: 01788 544344 Email: office@bradby.org.uk