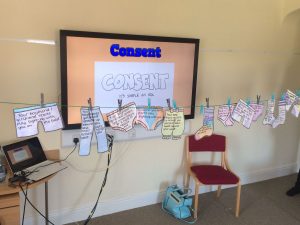 The Bradby Club's Safer Relationships Project has been running since 2013 and works with young people to provide information and advice on matters surrounding sexual health and safe relationships.
Topics include: healthy relationships, contraception, consent, sexting, child sexual exploitation, puberty, sexually transmitted infections etc.
Delivered through a variety of targeted activities, informal education, and 1 to 1 support tailored to the needs of the individual or group.
The Safer Relationships Project aims to:
Provide informative education through workshops and drop-ins in schools and colleges around the many topics that contribute to healthy relationships and sexual health
Provide one to one support for young people in need of additional support and those at most risk
Follow a clear referral pathway if the young person requires additional specialist support from other agencies
Work closely with partnership agencies to increase positive outcomes for young people with complex needs.
Engage with young people through interactive activities to increase knowledge around relationships and sexual health
Provide young people with a welcoming, young person friendly service to access free contraception, chlamydia and pregnancy testing
Whether you are a young person looking for support, or a professional interested in working with us, please contact Rebecca@bradby.org.uk or 01788 544344. Alternatively, please feel free to contact us via Facebook, Twitter or Instagram, just search @thebradbyclub."
Supported by